The Geography of Bliss: One Grump's Search for the Happiest Places in the World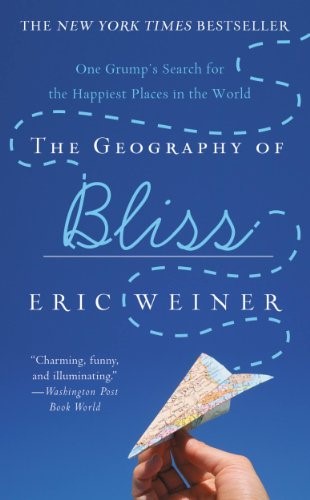 from amazon.com
Part travel memoir, part humor, and part twisted self-help guide, The Geography of Bliss takes the reader across the globe to investigate not what happiness is, but WHERE it is.

Are people in Switzerland happier because it is the most democratic country in the world? Do citizens of Qatar, awash in petrodollars, find joy in all that cash? Is the King of Bhutan a visionary for his initiative to calculate Gross National Happiness? Why is Asheville, North Carolina so damn happy?

In a unique mix of travel, psychology, science and humor, Eric Weiner answers those questions and many others, offering travelers of all moods some interesting new ideas for sunnier destinations and dispositions.
https://www.amazon.com/Geography-Bliss-Grumps-Search-Happiest-ebook/dp/B000UZJR22
Author: Eric Weiner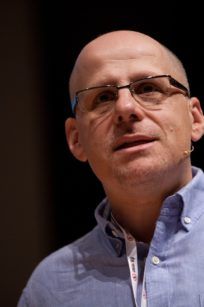 As a long-time foreign correspondent for National Public Radio, Eric Weiner reported from more than 30 nations, from Iraq to Indonesia, covering some of the major international events of recent times. He is the recipient of several journalism awards, including the Angel Award for coverage of Islamic affairs in Asia.
Eric writes a regular column for BBC Travel.  His work also appears in The Los Angeles Times, the Washington Post and other publications, as well as on NPR's Morning Edition. He is a popular speaker and lecturer.
When not writing, or thinking about writing, Eric is an avid cyclist and consumer of sushi (Tekka maki, in particular). He lives in in the Washington, DC area, with his wife and daughter and their two rambunctious cats.
Reviewed by: John Stokdijk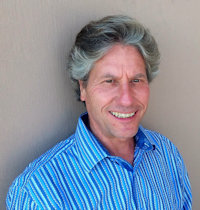 Reviewed 10/29/2018
Ajijic Book Club member D'Arcy McGee assured me that The Geography of Bliss: One Grump's Search for the Happiest Places in the World by Eric Weiner was a book with humor. He was right. I was ready for something light-hearted because ABC had tackled some heavy subjects earlier in the year.  
The breezy style of The Geography of Bliss made it a pleasant read. But the book did not lack for substance. It had numerous thought-provoking insights. 
 Weiner pursued his chosen topic because he wanted a change. 
As a foreign correspondent for National Public Radio, I traveled to places such as Iraq, Afghanistan, and Indonesia: unhappy places. 

What if, I wondered, I spent a year traveling the globe, seeking out not the world's well-trodden trouble spots but, rather, its unheralded happy places? 
The first stop on his journey was The Netherlands, the country of my birth, a country known for its high levels of tolerance.
Veenhoven runs something called the World Database of Happiness. 

Veenhoven's research shows that tolerant people tend to be happy. 
The third country that Weiner visited was Bhutan, a country often discussed because of its government instituted Gross National Happiness as a goal in 2008, the same year that The Geography of Bliss was published. That the well-being of citizens is much more than an economic matter seems obvious. Yet most countries continue to blindly pursue economic growth. Measuring national success by using Gross Domestic Product, GDP, instead of GNH is perhaps one of the great mistakes of modern societies. Recognizing this mistake and changing direction is now happening but at a pace so slow that the result is barely noticeable. 
I knew very little about the country of Qatar and that chapter was an eye-opener. 
The emir is, if nothing else, generous. He shares Qatar's vast oilngas wealth among his subjects. In fact, this is the ultimate welfare state... When a Qatari man gets married, the government gives him a plot of land to build a house, an interest-free mortgage, and, to boot, a monthly allowance of roughly seven thousand dollars.  
In this chapter are examples of the bits of wisdom that Eric Weiner sprinkles throughout his book. 
Humans, even nomadic ones, need a sense of home... a sense of community and, even more important, a history.  

...an important ingredient in the good life, the happy life, is connecting to something larger than ourselves...  

Social scientists estimate that about 70 percent of our happiness stems from our relationships... 
Seeing Thailand through the eyes of Weiner was interesting. I have visited Thailand twice, but only as a typical tourist. And in recent years I have developed an interest in Buddhism, the religion of 90% of the Thai people.  
Buddhists are nothing if not mellow… Thais are deeply suspicious of thinking… The Thais, I suspect, are too busy being happy to think about happiness. 
In India we encounter more contrasts with western thinking.  
Hinduism— indeed, most eastern religions— tells us that striving, even striving for happiness, is self-defeating. 
The other countries that Eric Weiner visits and writes about are Switzerland, Iceland, Great Britain and America. 
He also visits Moldova, "the world's least happy country." 
Moldovans are caught in a misery loop. Their unhappiness breeds mistrust, which breeds more unhappiness, which leads to more mistrust. 
At the end of his book, and somewhat confused, Weiner tries to summarize all he has learned.  
Exasperated, I call one of the leading happiness researchers, John Helliwell. Perhaps he has some answers. "It's simple," he says. "There's more than one path to happiness."