Factfulness: Ten Reasons We're Wrong About the World--and Why Things Are Better Than You Think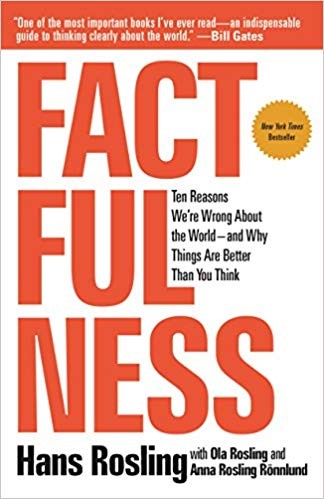 from amazon.com
When asked simple questions about global trends—what percentage of the world's population live in poverty; why the world's population is increasing; how many girls finish school—we systematically get the answers wrong. So wrong that a chimpanzee choosing answers at random will consistently outguess teachers, journalists, Nobel laureates, and investment bankers.
In Factfulness, Professor of International Health and global TED phenomenon Hans Rosling, together with his two long-time collaborators, Anna and Ola, offers a radical new explanation of why this happens. They reveal the ten instincts that distort our perspective—from our tendency to divide the world into two camps (usually some version of us and them) to the way we consume media (where fear rules) to how we perceive progress (believing that most things are getting worse).
Our problem is that we don't know what we don't know, and even our guesses are informed by unconscious and predictable biases.
It turns out that the world, for all its imperfections, is in a much better state than we might think.That doesn't mean there aren't real concerns. But when we worry about everything all the time instead of embracing a worldview based on facts, we can lose our ability to focus on the things that threaten us most.
Inspiring and revelatory, filled with lively anecdotes and moving stories, Factfulness is an urgent and essential book that will change the way you see the world and empower you to respond to the crises and opportunities of the future.
https://www.amazon.com/Factfulness-Reasons-World-Things-Better-ebook/dp/B0756J1LLV
Author: Hans Rosling
Rosling was born in Uppsala, Sweden, on the 1st of July 1948. From 1967 to 1974 Rosling studied statistics and medicine at Uppsala University, and in 1972 he studied public health at St. John's Medical College, Bangalore, India. He became a licensed physician in 1976 and from 1979 to 1981 he served as District Medical Officer in Nacala in northern Mozambique. On 21 August 1981, Rosling began investigating an outbreak of konzo, a paralytic disease first described in the Democratic Republic of the Congo.[8][9][10] His investigations earned him a Ph.D. at Uppsala University in 1986.

Rosling presented the television documentary The Joy of Stats, which was broadcast in the United Kingdom by BBC Four in December 2010 and has been made available to 'catch up' on BBC iPlayer since.[11] He presented a documentary Don't Panic — The Truth about Population for the This World series using a Musion 3D projection display] which appeared on BBC Two in the UK in November 2013. In 2015, he presented the documentary Don't Panic: How to End Poverty in 15 Years, which was produced by Wingspan and aired on the BBC just ahead of the announcement of the UN's Sustainable Development Goals.

Rosling was a sword swallower, as demonstrated in the final moments of his second talk at the TED conference. In 2009 he was listed as one of 100 leading global thinkers by Foreign Policy, and in 2011 as one of 100 most creative people in business by Fast Company. In 2011 he was elected member of the Swedish Academy of Engineering Sciences and in 2012 as member of the Swedish Academy of Sciences. He was included in the Time 100 list of the world's 100 most influential people in 2012.
Reviewed by: John Stokdijk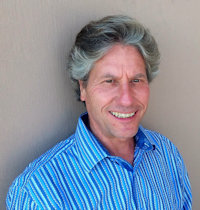 Reviewed 2/17/2019
For a while last year, Bill Gates was giving all 2018 college graduates a free digital copy of Factfulness: Ten Reasons We're Wrong About the World--and Why Things Are Better Than You Think by Hans Rosling. It was one of Gates' favorite books of 2018. Rosling was his friend and he describes him as "always kind, often patient and never judgmental."
I was already familiar with the main premise of Factfulness. In 2004 I read The Progress Paradox: How Life Gets Better While People Feel Worse by Gregg Easterbrook. In 2018 I put Enlightenment Now: The Case for Reason, Science, Humanism, and Progress by Steven Pinker on my Wish List. Enlightenment Now sparked much discussion which I paid some attention to but I have not found time to read the book itself.
I had some concern that a book about facts might be boring but that was not the case. Factfulness is more about how we think about facts than the facts themselves. It is about how we build our worldviews and why we think the way we do.
Rosling presents two approaches to building a worldview, a dramatic worldview and a fact based worldview. In ten chapters he describes erroneous ways of thinking that lead to the dramatic worldview which most people have. Each chapter provides simple, useful tools for correcting that erroneous thinking and building a worldview based on facts.
Rosling also criticizes classifying the world's countries into just two categories, the developed and the developing. Instead he uses four categories based on income which generates a much more accurate picture. And it is inspiring to learn that in the last twenty years, the proportion of the world population living in extreme poverty has almost halved.
While I completely agree with Hans Rosling, I think that, unfortunately, his approach is, and will continue to be, very ineffective. The political landscape in the United States is proof that politicians who manipulate people with dramatic worldviews will be far more successful than those who base platforms solely on facts. Imagine a candidate running for the office of President basing a campaign on credible, verifiable facts. That would be refreshing but would such a campaign catch fire? No, the public would find that campaign utterly boring and give it little heed.
A recent article on the Slate website captures my views quite well.
It's Time to Give Up on Facts (link)
Truth is not enough. It never has been… What we need, first, is a way to unseat the lies—and whatever that winds up looking like, it's going to mean swallowing your pride, asking the right questions, and listening to the answers.

Look the zombie in the face, and then offer it your heart.
Hans Rosling gives us anecdotes about himself which help make his book interesting. He was not an academic working in some ivory tower. He was a medical doctor engaged on the ground in areas of the world which still suffer from extreme poverty. He is open about the mistakes he has made in his own life. He made no attempt to minimize the reality that in many ways and in many places the world is bad. His motivation for writing the book was to provide a realistic roadmap for continued progress.
Rosling died from cancer early in 2017. After he received his terminal diagnosis, finishing writing Factfulness was his passion. He has left us a valuable legacy which, again unfortunately, will probably achieve far less than he had hoped for. His way is not the way the world works. It will take much more than the knowledge in his book to bring the continued progress the world needs. But he should be applauded for his impressive effort.
The work of Hans Rosling is being continued by the Gapminder Foundation and his son Ola Rosling and his daughter-in-law Anna Rosling Rönnlund. The Gapminder website is a rich source of information effectively presented using bubble graphs which change over a span of years. I have now added a bookmark for this site in my folder for resources that I value and trust.
I was particularly interested in what someone focused on facts would say about global risks.
The five that concern me most are the risks of global pandemic, financial collapse, world war, climate change, and extreme poverty.
I do not share the view that progress will probably continue. It may or may not. I believe that the future is uncertain, very uncertain.
I have a concern which Rosling does not address in his book, indeed it is outside of the scope of his book. History teaches us that civilizations progress until they collapse. History teaches us that all past civilizations collapsed except the one we now live in which began about 500 years ago.
During the Great Recession ten years ago, I began to imagine, for the second time in my life, the collapse of civilization. A worldwide effort prevented the Great Recession from turning into a second Great Depression. What if during that time there had also been a global pandemic like the Spanish flu of 1918 plus a large scale terrorist attack leading to a new major war? Those events are not beyond our imagination and those events occurring concurrently is far from impossible.
Back to Factfulness, I was very interested in what was said about DDT.
In 2006 the World Health Organization finally finished reviewing all the scientific investigations and, just like the CDC, classified DDT as "mildly harmful" to humans, stating that it had more health benefits than drawbacks in many situations.
I clearly remember the Canadian ban of DDT and the fear around that chemical during my childhood. My father was a vegetable farmer and cabbage was one of his biggest crops. I remember him walking with little protection in a cloud of DDT dust which he applied to protect his crop from the cabbage butterfly laying eggs that would became caterpillars with voracious appetites. After the ban he stopped growing cabbage. As well as breathing in DDT, my father was a heavy smoker. He lived to age 85 but did not die from lung cancer.
I enjoyed seeing and hearing Hans, Ola and Anna in the short video in the Gapminder website.
WHY WE WROTE FACTFULNESS (link)