Icebound: Shipwrecked at the Edge of the World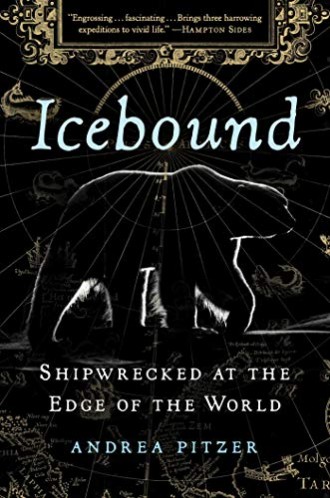 from amazon.com
The human story has always been one of perseverance—often against remarkable odds. The most astonishing survival tale of all might be that of 16th-century Dutch explorer William Barents and his crew of sixteen, who ventured farther north than any Europeans before and, on their third polar exploration, lost their ship off the frozen coast of Nova Zembla to unforgiving ice. The men would spend the next year fighting off ravenous polar bears, gnawing hunger, and endless winter.

In Icebound, Andrea Pitzer masterfully combines a gripping tale of survival with a sweeping history of the great Age of Exploration—a time of hope, adventure, and seemingly unlimited geographic frontiers. At the story's center is William Barents, one of the 16th century's greatest navigators whose larger-than-life ambitions and obsessive quest to chart a path through the deepest, most remote regions of the Arctic ended in both tragedy and glory. Journalist Pitzer did extensive research, learning how to use four-hundred-year-old navigation equipment, setting out on three Arctic expeditions to retrace Barents's steps, and visiting replicas of Barents's ship and cabin.

"A visceral, thrilling account full of tantalizing surprises" (Andrea Barrett, author of The Voyage of the Narwhal ), Pitzer's reenactment of Barents's ill-fated journey shows us how the human body can function at twenty degrees below, the history of mutiny, the art of celestial navigation, and the intricacies of building shelters. But above all, it gives us a first-hand glimpse into the true nature of human courage.

https://www.amazon.com/Icebound-Shipwrecked-at-Edge-World-ebook/dp/B08BZVWY4Q
Author: Andrea Pitzer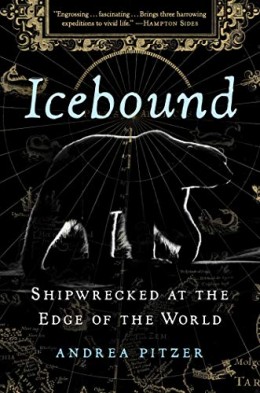 Andrea Pitzer is a journalist who loves to unearth lost history. Her third book, Icebound: Shipwrecked at the Edge of the World, narrates the three Arctic voyages of Dutch navigator William Barents, who wound up stranded on Nova Zembla during the winter of 1596. It was published in January 2021 by Scribner.
Events and ideas that were once common knowledge but have fallen from public memory fascinate her, as does humanity's tendency not to learn from history. After archival research and reporting on four continents, she feels most at home in libraries or on a boat in the far North.
She received an undergraduate degree from Georgetown University's School of Foreign Service in 1994, and later studied at MIT and Harvard as an affiliate of the Nieman Foundation for Journalism. In 2009, she founded Nieman Storyboard, the narrative nonfiction site for the foundation, which she edited until 2012. Before that, she was a freelance journalist, a music critic, a portrait painter, a French translator, a record store manager, and a martial arts and self-defense instructor (but not all at the same time). She grew up in West Virginia and currently lives with her family near Washington, DC.