Dead Wake: The Last Crossing of the Lusitania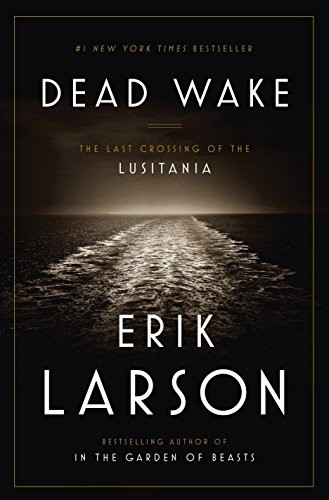 from amazon.com
On May 1, 1915, with WWI entering its tenth month, a luxury ocean liner as richly appointed as an English country house sailed out of New York, bound for Liverpool, carrying a record number of children and infants. The passengers were surprisingly at ease, even though Germany had declared the seas around Britain to be a war zone. For months, German U-boats had brought terror to the North Atlantic. But the Lusitaniawas one of the era's great transatlantic "Greyhounds" —the fastest liner then in service — and her captain, William Thomas Turner, placed tremendous faith in the gentlemanly strictures of warfare that for a century had kept civilian ships safe from attack.

Germany, however, was determined to change the rules of the game, and Walther Schwieger, the captain of Unterseeboot -20, was happy to oblige. Meanwhile, an ultra-secret British intelligence unit tracked Schwieger's U-boat, but told no one. As U-20 and the Lusitania made their way toward Liverpool, an array of forces both grand and achingly small — hubris, a chance fog, a closely guarded secret, and more — all converged to produce one of the great disasters of history.

It is a story that many of us think we know but don't, and Erik Larson tells it thrillingly, switching between hunter and hunted while painting a larger portrait of America at the height of the Progressive Era. Full of glamor and suspense, Dead Wake brings to life a cast of evocative characters, from famed Boston bookseller Charles Lauriat to pioneering female architect Theodate Pope to President Woodrow Wilson, a man lost to grief, dreading the widening war but also captivated by the prospect of new love.

Gripping and important, Dead Wake captures the sheer drama and emotional power of a disaster whose intimate details and true meaning have long been obscured by history.

Author: Erik Larson
Erik Larson is the author of six New York Times bestsellers, including Dead Wake: The Last Crossing of the Lusitania, which hit no. 1 on the Times list soon after launch, and his newest book, The Splendid and the Vile: A Saga of Churchill, Family, and Defiance During the Blitz. The latter is in large part a domestic drama that examines how Winston Churchill and his "Secret Circle" really went about surviving the German air campaign of 1940-41. Erik's The Devil in the White City is set to be a Hulu limited series; his In the Garden of Beasts is under option by Tom Hanks, for a feature film. Erik lives in Manhattan with his wife, who is a writer and retired neonatologist; they have three grown daughters.