Dancing in the Mosque: An Afghan Mother's Letter to Her Son
from amazon.com
In the days before Homeira Qaderi gave birth to her son, Siawash, the road to the hospital in Kabul would often be barricaded because of the frequent suicide explosions. With the city and the military on edge, it was not uncommon for an armed soldier to point his gun at the pregnant woman's bulging stomach, terrified that she was hiding a bomb. Frightened and in pain, she was once forced to make her way on foot. Propelled by the love she held for her soon-to-be-born child, Homeira walked through blood and wreckage to reach the hospital doors. But the joy of her beautiful son's birth was soon overshadowed by other dangers that would threaten her life.
No ordinary Afghan woman, Homeira refused to cower under the strictures of a misogynistic social order. Defying the law, she risked her freedom to teach children reading and writing and fought for women's rights in her theocratic and patriarchal society.
Devastating in its power, Dancing in the Mosque is a mother's searing letter to a son she was forced to leave behind. In telling her story—and that of Afghan women—Homeira challenges you to reconsider the meaning of motherhood, sacrifice, and survival. Her story asks you to consider the lengths you would go to protect yourself, your family, and your dignity.
https://www.amazon.com/Dancing-Mosque-Afghan-Mothers-Letter-ebook/dp/B09RKBXPF6
Author: Homeira Qaderi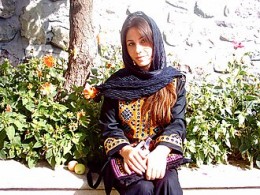 Homeira Qaderi born 1980) is an Afghan writer, activist and educator.
She was born in Kabul, Afghanistan during the Russian occupation to an artist mother and a father who is a high school teacher. Dr. Qaderi's early childhood was spent first sheltering from the Soviets and then from the civil war following the Soviet withdrawal. When the Taliban conquered Herat, Dr. Qaderi was prohibited from attending school and cloistered in her home. As a young adolescent, she found numerous ways to resist the Taliban's draconian edicts against girls and women. From these early beginnings, she became an outspoken advocate for Afghan women's rights and the rule of law, receiving the Malalai Medal for exceptional bravery from Afghanistan's President, Ashraf Ghani.
At the age of 13, after the Taliban took control of the country and girl schools were closed, she secretly began the homeschooling of girls and boys. After the first publication of a short story by a woman under the Taliban, they made threats on her life. She was taken out of school and told that she could never return.
Dr. Qaderi took refuge in Iran. For seven years, while studying in Iran, Dr. Qaderi served as Director of The Afghan Artists and Cultural Instructors Society, established for Afghan writers living in Iran.
In 2011 she began teaching as a professor at Kabul University. Because of the great demand for her literary skills and professional expertise in Persian Literature, she also began teaching at Mash'al, Gharjistan, and Kateb universities. During the same period, she organized and was active in civic movements focused on achieving equal rights for Afghan women.
During the 2021 fall of Kabul, she and her son were among the last to gain entrance through a secret gate on the north side of the airport to flee the country.