The Premonition: A Pandemic Story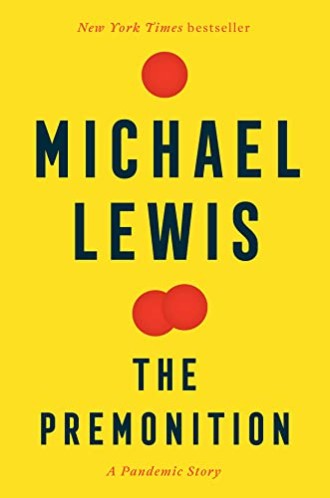 from amazon.com
For those who could read between the lines, the censored news out of China was terrifying. But the president insisted there was nothing to worry about.
Fortunately, we are still a nation of skeptics. Fortunately, there are those among us who study pandemics and are willing to look unflinchingly at worst-case scenarios. Michael Lewis's taut and brilliant nonfiction thriller pits a band of medical visionaries against the wall of ignorance that was the official response of the Trump administration to the outbreak of COVID-19.
The characters you will meet in these pages are as fascinating as they are unexpected. A thirteen-year-old girl's science project on transmission of an airborne pathogen develops into a very grown-up model of disease control. A local public-health officer uses her worm's-eye view to see what the CDC misses, and reveals great truths about American society. A secret team of dissenting doctors, nicknamed the Wolverines, has everything necessary to fight the pandemic: brilliant backgrounds, world-class labs, prior experience with the pandemic scares of bird flu and swine flu…everything, that is, except official permission to implement their work.
Michael Lewis is not shy about calling these people heroes for their refusal to follow directives that they know to be based on misinformation and bad science. Even the internet, as crucial as it is to their exchange of ideas, poses a risk to them. They never know for sure who else might be listening in.
https://www.amazon.com/Premonition-Pandemic-Story-Michael-Lewis-ebook/dp/B08V91YY8R
Author: Michael Lewis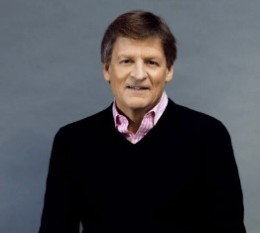 Michael Monroe Lewis (born October 15, 1960) is an American author and financial journalist.[3] He has also been a contributing editor to Vanity Fair since 2009, writing mostly on business, finance, and economics. He is known for his nonfiction work, particularly his coverage of financial crises and behavioral finance.
Lewis was born in New Orleans and attended Princeton University, from which he graduated with a degree in art history. After attending the London School of Economics, he began a career on Wall Street during the 1980s as a bond salesman at Salomon Brothers. The experience prompted him to write his first book, Liar's Poker (1989). Fourteen years later, Lewis wrote Moneyball: The Art of Winning an Unfair Game (2003), in which he investigated the success of Billy Beane and the Oakland Athletics. His 2006 book The Blind Side: Evolution of a Game was his first to be adapted into a film, The Blind Side (2009). In 2010, he released The Big Short: Inside the Doomsday Machine. The film adaptation of Moneyball was released in 2011, followed by The Big Short in 2015.
Lewis's books have won two Los Angeles Times Book Prizes and been notable selection features on the New York Times Bestsellers Lists.

Reviewed by: John Stokdijk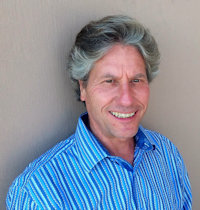 Reviewed 11/9/2022
I was aware of Michael Lewis due to his excellent reputation. Although I had never read any of his books, I had seen three films based on his stories - Moneyball, The Blind Side and The Big Short, all very good. When the Ajijic Book Club selected The Premonition: A Pandemic Story I immediately knew that this was a book I would read.
It is amazing to read a book about very recent history, a pandemic that hit my conscious awareness hard in March 2020. This pandemic is one of the major events of my lifetime, on par with the collapse of the Soviet Union, the end of Apartheid in South Africa, 9/11, the Great Recession, the election of Donald Trump and, perhaps, the Russian invasion of Ukraine. The pandemic is an event that I have been trying to understand in depth and The Premonition contributes to that effort.
In the Introduction, Lewis states his purpose for writing this book.
I like to think that my job is mainly to find the story in the material. I always hope that story will wind up being about more than what I think it's about—and that the reader will bring to it his own sense-making apparatus and find meanings in it missed by its author. But that doesn't mean that I don't form some opinion of what it's about. I think this particular story is about the curious talents of a society, and how those talents are wasted if not led. It's also about how gaps open between a society's reputation and its performance.
Lewis tells the story of the pandemic through the stories of selected characters, each interesting making for a very readable book.
Laura Glass is introduced to readers as a thirteen year old science nerd guided by her father Bob Glass, a scientist.
…the insights at the heart of her project had become the official policy of the United States government, and were spreading rapidly from the CDC to the rest of the world.
We follow the career of Dr. Charity Dean, which I researched beyond the end of her story in the book and will return to later.
Charity Dean was at this point the chief health officer of Santa Barbara County. She'd been promoted earlier that year. She was the youngest chief health officer in the history of California.
I was intrigued by the intuition of Dean as told in the EPILOGUE.
Something was coming. Something bigger. Charity Dean did not know if the next pathogen would leap from an animal or a laboratory—she didn't actually know anything. She just sensed it, the way she'd sensed that Mrs. Lorenzen, her second-grade teacher in Junction City, whom she adored, was pregnant before she'd told anyone—and completely panicked the woman by blurting it out in class. "Oh no I'm not!" her teacher had exclaimed, leaving Charity feeling hurt and confused until, a few days later, the woman pulled her aside and asked, "How did you know?" It had always been part of the story Charity told herself about herself: that she knew things before she knew why. That she had a nose for things about to change. And for risk.
We read about a man with a strange and unfamiliar name, Rajeev Venkayya.

As it happened, the United States of America had a plan to fight a pandemic. The first draft had been written back in October 2005, by a man named Rajeev Venkayya, in the basement of his parents' house in Xenia, Ohio.
Perhaps the biggest surprise for me in this book was learning that after reading The Great Influenza: The Story of the Deadliest Pandemic in History George W. Bush insisted on the development of a pandemic plan.

Venkayya builds a team and we meet Richard Hatchett.

His first pick was Richard Hatchett, another doctor who had stopped treating patients and moved into government service. Richard belonged to a dying species: the romantic southern man of letters who travels north and there makes an uneasy home for himself.
And Venkayya adds Carter Mecher to his team.

Carter was surprised by the call from the White House, and even more surprised by what they wanted him to do. He'd learned a lot about infectious disease by treating it in various intensive care units. He knew nothing about pandemics, and hadn't given any thought to how to plan for them. "But it was the White House calling," he said. "I figured, Yeah, yeah, what the hell."
The story of Joe DeRisi is picked up in 2003.

But to the CDC, in March 2003, Joe DeRisi was just another young research biochemist on the make. The chip thing he'd created—well, no one outside of the DeRisi Lab knew much about it. "We literally had to beg the CDC to send us a sample of the virus," said Joe. "But they finally sent us a sample."
There are some minor characters in the book whose contributions are not insignificant - Lisa Koonin, Duane Caneva, Todd Park and others.

And there were characters in the book who I had some familiarity with because I had seen them on TV news coverage - Gavin Newsom, Ken Cuccinelli, Robert Redfield, Francis Collins and, of course, Tony Fauci, although he is only a fringe figure in this book.

Because I currently live in Mexico, I was quite absorbed by its role in the story, back in 2009.

What happened was that during the day it had emerged that a serious outbreak of respiratory illness in Mexico, associated with at least a thousand cases and perhaps as many as 60 deaths, mostly in young adults, had been identified as influenza and not just influenza but swine influenza, identical to the swine influenza in Texas and California. This virus was an odd combination of known North American human and bird flu and Eurasian swine flu. Presumably some pig in Mexico, perhaps in the vicinity of Mexico City, had served as a mixing bowl in which this unprecedented recombination event had occurred.
I rarely read comments about books on Amazon. However, because the current pandemic became political and polarizing almost immediately, I was curious. 629 people found the top positive review helpful. 640 people found the top critical review helpful. Sadly, The Premonition: A Pandemic Story will not make a meaningful difference to the current state of affairs.
---
Inspired by The Premonition, I did some research. Using Our World in Data as a source, as of November 4, 2022, Total COVID-19 deaths for countries of particular interest to me were as follows: USA 1,072,561 Canada 46,931 Mexico 330,424 New Zealand 2,106 Peru 217,030. Relative to population, I noticed for the first time that Peru suffered the most deaths, something I had not picked up from following the news. Relative to population, Canada suffered about three times as much as New Zealand. Relative to population, Mexico suffered about twice the number of deaths than Canada.
Relative to population, the United States of America suffered a death rate 2.5 times that of Canada and 7.8 times that of New Zealand. Amongst the wealthy developed countries, the performance of the USA in managing the pandemic is pathetic. Yet, it seems to me that Americans remain largely unaware of this disgrace.
As The Premonition: A Pandemic Story makes clear, the American story is one of institutional failure. The CDC, FDA and NIH badly failed the American people and this failure does not even seem to be an issue in the 2022 midterm election. It is not too early to begin grieving for the future of America.
---
As an aside, the USA is no better prepared today for a financial crisis than it is prepared for another pandemic. In particular, the U.S. Securities and Exchange Commission (SEC), the Federal Reserve System (Fed) and other regulatory authorities were not adequately reformed in the wake of the Great Recession. Most Americans, and most citizens of all countries, seem blissfully ignorant of just how fragile and unsustainable the economic system is. Michael Lewis could start writing that story today.
I was curious about Charity Dean and spent some time browsing websites detailing her current work.
"You cannot wait for the smoke to clear: once you can see things clearly it is already too late. You can't outrun an epidemic: by the time you start to run it is already upon you."
Dr. Charity Dean
CEO and Founder of the Public Health Company and lead protagonist in The Premonition, by #1 New York Times best-selling author Michael Lewis.
I also had a look at the current work of Joe DeRisi.
Missionary Misfits: Meet Joe DeRisi, A Real-Life Virus Hunter
I captured my personal reaction to the pandemic in detail in March, 2020.
---
Discussion questions for the Ajijic Book Club
Did you enjoy reading this book? Why or why not?

What did you learn from this book that surprised you?

Which character, which story did you like best?

What do you make of the intuition of Charity Dean?

Did you understand R naught before reading this book?




Did you understand exponential growth before reading this book?




Did this book influence your attitude towards social distancing, which remains controversial?




Should the head of the CDC be a political appointee?




What do you think of the support of Priscilla Chan and Mark Zuckerberg for CZ Biohub?




What is your level of confidence in the USA preparedness for another pandemic?